Freelance Sound Editor
James Routh is an experienced freelance sound editor with ITV1 credits for sound editing. He has edited sound for some of televisions favourite shows, including Channel 4 soap Hollyoaks and nostalgic ITV1 drama Heartbeat. James approaches every sound editing project with a conscientious attitude and high level of attention to detail. James has experience of location sound recording and understands the challenges faced by sound recordists in getting great sound on location. James is versatile in his work and operates most sound editing systems including Pro Tools, Pyramix.
Remote Sound Editing
James can provide a remote sound editing service. All you need to do is upload an AAF/OMF and Quicktime movie of your project to his dedicated FTP site. Once complete, James will provide you with a Pro Tools project or AAF/OMF ready for the next stage of your workflow.
Dialogue Editor
Good quality recorded dialogue is key to any production. James is an experienced dialogue editor, and knows how to get the best from your recorded sound.
If your sound recordist has faced a problematic shoot, and you haven't got the great sound that you need, don't worry, James offers a full ADR recording and voice over recording service, to sympathetically replace any dialogue that you need.
Testimonial - Keith Richardson - Controller Of Drama Yorkshire - ITV Studios
"James' knowledge of post production and his enthusiasm placed him in the top rank of those I have worked with over the years and I can recommend him unhesitatingly."
Previous Work as Sound Editor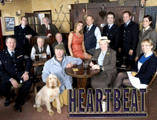 Sound Editor - Heartbeat
Heartbeat has been sold internationally, and therefore called for sound editing to provide M&E mixes. Nostalgia was fundamental to Heartbeat's success, so keeping true to life was important, No mobile phones here please!
Freelance Sound Editor - Hollyoaks
Time constraints on Hollyoaks call for fast yet accurate sound editing.
(full sound editor listings)
Further Information about Freelance Sound Editor
If you have any questions about Freelance Sound Editor, contact The Dub on 0779 654 7678 or email info@thedub.co.uk